If you're just starting out with the keto diet, mealtimes can feel very limiting and boring. It can seem like there is not a lot to eat and you end up eating the same foods over and over again.
You can start to miss your favorite foods, including your favorite desserts, many of which are not keto-friendly. However, we are here to help!
There are many meals out there modified to fit the keto diet and are still delicious and comforting.
In this article, we will highlight our favorite crepes. Not only are these crepes totally suitable for the keto diet, but they are also made with protein powder and so is the perfect workout snack.
They are healthy, easy to make, and so delicious you'll want to make them all the time.
So, if you're new to the keto diet and are struggling to find great breakfast or snack options, then read on for more!
What Is The Keto Diet?
The Ketogenic diet, also known as the keto diet, is a diet designed to send the body into a state known as "ketosis." In ketosis, your body burns fat instead of carbohydrates as its main energy source.
So, the keto diet is a diet that is very low in carbs, in order for your body to break down fat stores for energy instead. Typically, this will result in weight loss.
The foods permitted in a keto diet are meats that are high in fat, oils, fish, nuts, cheese, and leafy greens. However, this does not mean you have to miss out on dessert!
Our protein crepes are delicious and healthy, and 100% keto-friendly!
What Are The Ingredients For Keto Protein Crepes?
These keto protein crepes do not contain any butter or flour. Not only are they suitable for the keto diet, but they are also sugar-free, gluten-free, and low in carbs.
Here is everything you need to make these keto protein pancakes!
Protein powder: 1 scoop. It is best to use whey-caesin protein powder.
Egg Whites: 2 eggs, 66g.
Unsweetened Almond Milk: 3 tbsp, 45ml.
Coconut oil: You can use coconut spray as an alternative, this is for cooking the crepes.
How To Make Keto Protein Crepes
Follow these instructions to make the perfect protein crepes!
Gather your ingredients and baking equipment – your whisk, bowl, etc.
Take your bowl and whisk together the almond milk, egg whites, and protein powder.
Place a small, non-stick pan on medium-low heat.
Add coconut oil or spray to the pan, coating it.
Take out ¼ of the mixture and swirl it on the pan so it forms a circle shape.
Let this cook for around one to two minutes until the surface of the crepe is almost dry.
Flip the crepe and allow it to cook for another minute.
Remove from the pan.
Repeat with the rest of the batter.
What Are The Nutritional Details Of Keto Protein Crepes?
Here are the nutritional details of these delicious keto protein crepes.
Servings: 3 crepes of 6"
Serving Size: 3
Calories: 152kcal
Fat: 1.5g
Saturated fat: 0g
Carbohydrates: 2g
Fiber: 0.2g
Sugar: 0g
Protein: 30.4g
These crepes take 2 minutes to prepare and 10 minutes to cook. They are perfect for a quick breakfast or as a pre or post-workout snack.
What Are Some Tips For Making The Perfect Keto Protein Crepes?
Follow these top tips to make the perfect keto protein powder crepes!
Make sure there are no lumps in your batter, you should be able to pour it without any issues. To do this, you need to whisk the batter until it is smooth and runny.
Using a nonstick pan will help the crepes spread easily and evenly. With a nonstick pan your crepe won't stick to the bottom.
Stick to medium-low heat. This will stop the keto protein crepes from burning before they have the chance to cook.
Make sure you grease the pan well, spreading the oil so you cover the entire pan. This will further stop the crepes from sticking to the pan.
To create the thin circle crepes, you need to swirl to spread the mixture around at a fast pace. The result is a tasty, rollable crepe!
The top surface needs to become almost dry before you flip it. This will prevent the need to double-flip the crepe.
Are There Any Alternative Ingredients For Protein Crepes?
Here are some alternative ingredients for these keto protein crepes that are still easy to use and no less delicious.
Whey Protein
Replace whey-casein protein powder with simple whey protein powder.
If you choose to do this, then you only need 1 ½ to 2 tbsp of milk. You can add more milk if the crepe mixture is too thick.
It is important to note that whey protein powder is still suitable for the keto diet! However, you should always check the label to ensure your chosen powder meets the required macronutrients.
Alternative Milk Options
If you do not like almond milk, then you can choose to use another plant-based milk or dairy milk.
However, please note that the nutritional details of these keto protein crepes will change if you use an alternative milk option.
What Are Some Good Topping Ideas For Low-Calorie Protein Crepes?
You can add whatever toppings you like to these keto protein crepes. Although, it is important to note that certain toppings will not be keto-friendly and all will change the nutritional details.
Here are some topping ideas that are low-calorie and the perfect combo for these crepes!
Chocolate syrup. Click the link for a sugar-free alternative.
Nut butter. You can choose any nut butter that you like – almond butter, peanut butter, cashew butter, etc.
Seeds and nuts – almonds taste amazing with these crepes!
Berries – Try strawberries or blueberries.
Dried fruit – like cranberries.
Crushed cereal – if you want some added crunch.
What Is The Benefit Of Protein Powder?
Protein powder is a nutritional supplement. It has many benefits, such as:
Helps aid weight loss: Taking protein powder allows you to feel fuller for longer periods of time, which means you eat smaller portions and snack less frequently.
Helps tone and build muscle: When it comes to muscle growth, protein is very important.
Helps with recovery after exercise: Protein helps to repair damaged tissue and muscles.
Many people like to drink protein powder in smoothies, but you can add it to mixtures like crepes or pudding!
Final Thoughts
A keto diet can sometimes be difficult to follow because you have to cut out a lot of food. However, while you need to skip a lot of your favorite desserts, you can make room for new favorites, like these keto protein crepes!
These crepes include just 3, keto-friendly ingredients. You can make these crepes in minutes and topped with a variety of eclectic toppings so you never become bored.
One of these ingredients is whey-caesin protein powder, which makes these crepes very high in protein and perfect as a post-workout snack.
Although, you can make them for breakfast when you need to get up and go, or as a comforting after-dinner dessert to end your day with a smile.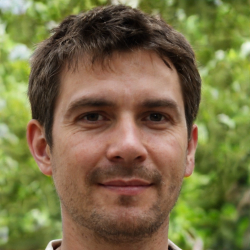 Latest posts by Justin Roberts
(see all)