Did you think you had to give up pop tarts when you're trying to be healthy?
Well, normally, yes. But – not with this recipe! Now you get to satisfy your sugar cravings at breakfast, while getting some decent nutritional value.
This article features the recipe for healthy, homemade, protein powder pop tarts, complete with filling and frosting, that are not only sugar-free and packed with added protein, but also gluten-free to boot!
And you can make them without oil in the air fryer, so even the cooking process is healthy.
Please don't be intimidated by the idea of making an imitation pop tart from scratch – it's actually much easier to do than you might think.
This particular healthy recipe is perfect for anyone living on their own because the instructions are for a single serving.
And it's also great for anyone that's on a different diet regime than everyone else in the house, because there's no gluten to worry about for anyone who's intolerant.
Not to mention, it's fully loaded with protein powder for anyone who wants to build muscle or tone up.
It may not be an exact match to regular pop tarts taste-wise, but it is tasty, and when it's this healthy, who would prefer a copy-cat recipe, anyway? Not me!
Are You Serious? There's Such A Thing As Healthy, Sugar-Free Pop Tarts??!
Believe it or not, yes!
These pop tarts feature plenty of sweetness without any added sugar whatsoever.
The filling is made of homemade sugar-free strawberry jam, the crust is sugar-free, and even the frosting is sugar-free!
Ingredients You'll Need For These Yummy Healthy Protein Powder Pop Tarts
This recipe features only a handful of ingredients altogether. And they are ones that everyone who wants to build muscle ought to have in their kitchen.
Let me break it down for you:
(The following ingredients list is for a single serving.)
Ingredients For The Base Made With Protein Powder
Either 3 tablespoons of all-purpose baking flour or regular all-purpose flour, ideally gluten-free if required
1 tablespoon of sugar-free vanilla flavored protein powder – for both protein and added sweetness
1 tablespoon of sugar-free powdered peanut butter, sometimes referred to as peanut butter powder
2 tablespoons of fat-free Greek yogurt – this adds to the protein macros of the pop tarts
Ingredients For The Pop Tarts Healthy Strawberry Filling
¼ cup of chopped strawberries, either fresh or frozen, is fine
½ teaspoon of sugar-free maple syrup
½ teaspoon of chia seeds, healthy and nutrient-rich
Ingredients For The Pop Tarts Sugar-Free Frosting
Yet more vanilla protein powder, specifically ½ tablespoons
1 ½ tablespoons of unsweetened fat-free Greek yogurt, which also contributes to the protein content
Instructions For Making These Yummy Healthy Pop Tarts In The Air Fryer
So far, I've only ever made these in the air fryer rather than in a toaster. Here's what you need to do:
First, Make The Healthy Strawberry Filling
Crush the strawberries, either with a food processor or blender or simply by mashing with a fork
Stir in the sugar-free maple syrup and chia seeds
Refrigerate the mixture to allow it to thicken for at least 5 minutes (10 minutes would be better)
Then Make The Protein Powder Pop Tart Base
Use a food processor to blend the powdered peanut butter, vanilla protein powder, and all-purpose baking flour
Add in a large portion of the fat-free Greek yogurt, and mix to form a nice dough
Dust some flour over a flat work surface, and transfer the dough to it and knead it a little
Roll the dough into a pop tart-like rectangle (measuring about 10 by 4 inches and ⅛ an inch thick, before using a sharp knife to cut the rectangle into two pieces down the middle.
Finally, Put It All Together And Air Fry
Brush one rectangle of the dough with egg wash (either egg whites or whisked egg) ½ inch around the edges. (If you don't have a brush, you can just use your fingers.)
Place the strawberry filling in the center of the rectangle and spread it without going too close to the edge
Place the second rectangle on the top, and seal the edges of the pocket by pressing a fork around them. (You can brush the dough with more egg wash if you wish.)
Place parchment paper in the air fryer basket, so the dough won't stick, and place the pop tart inside.
Air fry the pop tart at 350 degrees Fahrenheit for 4 minutes on each side. When cooked, the dough should be lightly browned along the edges. Allow it to cool.
To make the frosting, simply stir together the vanilla protein powder and fat-free Greek yogurt, before spreading on top. You can also add some sugar-free sprinkles if you wish.
Enjoy!
Nutritional Values
Each serving comes to 214 calories, and it packs a whopping 17.8 grams of healthy protein, and 3.4 grams of fiber, while the carbs are just 32.1 grams, and there's just 2 grams of fat.
Substitutions You Can Make, Including Making It Vegan
For the best results, I recommend using the ingredients listed above, but here are some substitutions you can make if you wish.
Substitute the all-purpose baking flour for whole wheat pastry flour
Substitute the all-purpose baking flour for oat flour
Substitute the powdered peanut butter for 1 teaspoon more protein powder and 2 teaspoons of more flour
If your protein powder is unflavored, add some zero calorie sweetener (for great gluten-free protein powders, read here)
To make the pop tarts vegan, substitute the fat-free Greek yogurt for coconut yogurt, don't use an egg wash, and ensure you use a plant-based protein powder (see also "Best Paleo Protein Powder"). You can find some great store-bought vegan yogurts, or you can find some great homemade vegan yogurt recipes online.
More Healthy Pop Tart Filling Ideas!
I'm also pleased to report that you can try out a variety of different tasty fillings for these healthy protein pop tarts. Here are some ideas to get you started:
Substitute the strawberries for blueberries
Use melted sugar-free chocolate chips
Some ground cinnamon with sweetener
Wrap Up
Now you know just how easy it is to make healthy protein sugar-free pop tarts and the different variations, I hope you give it a try and come to enjoy them as much as I do!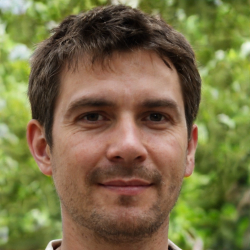 Latest posts by Justin Roberts
(see all)