If you're a fan of chocolate cake, you need to try making Devil's Food cupcakes!
This flavor is known for its incredible chocolatey ingredients, rich notes, and light consistency.
It's great to whip up when you want to indulge, as well as when you need a dessert that will please a lot of people.
Devil's food cupcakes are a great treat, no matter what time of year it is. They are rich enough to indulge in around the holidays, while being light enough to treat yourself when the weather gets warmer.
You're sure to have fun baking these Devil's Food cupcake recipes below.
Whether you prefer to keep things traditional with dark chocolate, or go for something a little different with peanut butter frosting, there are a variety of recipes to please a range of different preferences.
If you're ready to start making some rich, moist, and decadent Devil's Food cupcakes, keep reading!
First up, we have a classic Devil's Food cake recipe.
These cupcakes have all of the traditional flavors of Devil's Food cake, like cocoa, chocolate, and vanilla.
It also uses coffee for a little bitter contrast, which also highlights the rich chocolate flavors in each cake.
Each one is also topped with indulgent chocolate and cream cheese frosting. You'll love how the velvety topping works so well with the moist, fudge-like cake.
A tip is to use dark chocolate instead of milk for the icing, as this will prevent the cake from tasting too sweet!
If you want to make Devil's Food cupcakes with a little difference, try these made with marshmallow frosting!
The fluffy marshmallow topping adds a nice contrast against the darker chocolate cake.
It's also a nice option that pleases kids and adults alike, particularly if you add sprinkles or colored candy on top of the icing!
You can have 24 of these cupcakes ready in just 40 minutes, so they're great to whip up when you're hosting a large gathering and need a dessert for a lot of people.
Here's another cupcake recipe that uses a different frosting. You'll be topping each rich chocolatey cupcake with sweet vanilla buttercream.
The frosting has a light flavor that prevents the cake from tasting too rich.
This is perfect for people that have a sweet tooth but aren't huge chocolate lovers, as well as those that find chocolate a little sickly.
The blend of vanilla and chocolate naturally pairs so well, as both ingredients bring out the best in each other.
If you've never tried chili and chocolate together, you're missing out!
These spicy Devil's Food cupcakes are made with cayenne and chili powder, giving each chocolate cupcake a distinct kick.
They're also topped with red velvet buttercream and melted red candy 'horns' . This is great to impress people around Halloween, but the flavors are great to enjoy all year round.
If you're worried about the cakes being too spicy, don't worry. There's less than a teaspoon of the spicy powders used in the recipe.
This is enough to add a little spice without burning your tongue off!
Vegans may have to abstain from a lot of different foods, like chocolate, but this recipe allows them to enjoy Devil's Food cake, without any dairy or eggs!
This recipe uses soy milk, maple syrup, and cocoa powder to give each morsel a sweet, chocolatey flavor.
They are also filled with a vanilla filling which swaps butter for margarine and sugar. The filling helps make each cupcake feel incredibly indulgent!
You'll be making the chocolate icing with semisweet chocolate, but make sure that this is plant-based beforehand.
Semisweet chocolate is usually free from dairy, but it's always a good idea to check before you make it.
This is another recipe that's great around Halloween!
Each of these cupcakes is topped with a marshmallow frosting which looks like a cute ghost. The fluffy frosting tastes amazing against the rich, chocolatey flavors in the cake.
The light and dark colors also contrast well with each other, so people are bound to take notice!
One thing to remember is to only use Dutch-processed cocoa powder. This is less acidic than regular cocoa and will help make the cupcakes extra dark.
Here's another vegan recipe for anyone on a plant-based diet.
This recipe substitutes eggs for flaxseed meal, which helps to bind all of the ingredients together.
You'll also be using vegan plain yogurt, as this ensures that the batter retains its moist texture after baking.
The frosting is made with vegan chocolate and margarine. The topping tastes great on its own, but feel free to decorate with some candied petals for extra flair!
Remember to let the cupcakes cool before you start frosting them, or you might find that the topping melts soon after application.
At just 3 carbs per serving, this recipe is designed for anyone on a low-carb diet.
You'll be using coconut flour and almond flour to keep the carbs low, as well as using sweeteners to replace the calories from sugar.
The secret to the frosting is Crème Fraiche. This recipe uses it to make a creamy frosting. It has a pleasantly tangy flavor that cuts right through the richness of the cupcakes.
Even though they are low carb, each cupcake has a light texture and hearty chocolate notes; a perfect contrast which is characteristic of Devil's Food cake.
This recipe is for the real chocolate fans out there. Devil's Food cupcakes are known for their rich flavor, but this recipe adds buttercream frosting and fudge sauce to make them extra decadent!
These cupcakes are packed with sweet, hearty, chocolatey flavors, but the sour cream and baking soda keep the cake airy on the inside.
This prevents the dish from feeling too thick and dense, allowing you to truly appreciate the intense chocolate notes.
If you still can't get enough chocolate, feel free to top each cupcake with a chocolate baton!
Peanut butter and chocolate are a combination that's made in heaven. This recipe uses both of these flavors to update these Devil's Food cupcakes.
The cakes themselves are made with espresso and chocolate. The coffee cuts right through the dark chocolate which prevents the ingredients from overpowering each other.
The frosting is made with butter, peanut butter, and heavy cream. These rich ingredients mix to create an incredibly decadent topping.
This recipe is succulent enough as it is, but feel free to add chopped peanuts, chocolate chips, or mini peanut butter cups on top of the frosting for a nice finish.
Lastly, we have these Something To Hide cupcakes. These may look like regular cupcakes, but they have a fun candy center.
Kids and adults alike are sure to get a kick out of watching the candies fall out of each cake!
The recipe also uses coffee and Kosher salt to cut through the rich cocoa flavors. The salt also helps enhance the sweet flavors in the cupcakes, helping you notice the gentle vanilla notes in each bite.
You can use any color candy you like for the filling, but yellow and blue ones will contrast well with the dark chocolate batter.
Final Thoughts
Those were our pick of the best Devil's Food cupcake recipes!
Make sure you try some of the variations on Devil's Food cake, like using peanut butter frosting, or a surprise candy filling, as these are sure to please your eyes as well as your taste buds.
Whether you keep things traditional or opt for some unique variations, we hope you have fun baking these Devil's Food cupcakes and sharing them with your loved ones.
Frequently Asked Questions
Why Do They Call It Devil's Food Cake?
The origin of devil's food cake isn't that clear. Some think that it was used as the opposite of Angel food cake, which is different in flavor and consistency.
However, the word 'devilled' was used in the 18th century to describe dark, chocolatey, or rich foods.
Any chocolate cake which was particularly hearty or rich may have been thought of as nearly 'sinful'. This may have resulted in the name, Devil's Food Cake.
Is Devil's Food Cake Just Chocolate Cake?
Devil's food cake is a type of chocolate cake, except it's heartier, fluffier, and darker compared to classic chocolate cake.
The recipe calls for cocoa powder and additional baking soda, which gives the cake a rich flavor with a lighter, airier consistency. The baking soda also increases the cake's pH level, so it takes on a darker hue.
What Is The Main Flavor Of A Devil's Food Cake?
Devil's food cake has a rich, dark, chocolate flavor. This is the result of cocoa powder, an ingredient that lends its strong notes to the cake.
Some variations of the recipe use milk and dark chocolate alongside the cocoa powder, which makes every slice incredibly chocolatey.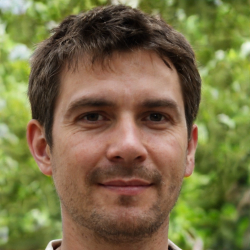 Latest posts by Justin Roberts
(see all)